The self proclaimed "King" of the NBA has been leading his hometown Cleveland Cavaliers to an unprecedented 3rd seed in the east… yeah you heard that right, the fucking 3rd seed. Everybody talks about how the oh so wonderful LeBron James is the greatest basketball player in recorded history when the man can't even lead his team to his usually 1st or 2nd best record in the conference. And I'm not even going to touch on the fact that he playing in a shitty eastern conference where he is getting beat by one, a shooting guard that can't shoot by the name of Demar Derozan and two, his previous sidekick Kyrie who left him because he sees what I see in LeBron, a fraud.
I promised i would not make this into an anti-LeBron post, but it appears to be turning into that at a very alarming rate so i'm just going to say my usually spiel. LeBron is a fraudulent, self adsorbed drama queen that forces teams to give his friends crazy contracts while also pushing away the players with actually talent. On top of this, LeBron is the least clutch super star in the history of basketball who only has gotten to 8 straight finals because the best team he's played in the eastern conference playoffs was a Paul George and Roy Hibbert lead Pacers team. I'll end my rant there being that many believe LeBron is the GOAT and enough disrespecting the great Michael Jordan.
To get back on topic, this is the last year of LeBron's contract with the Cavs and similar to the first time it expired Cleveland will be left in chaos when their soulless hometown hero ditches their ass and destroys his legacy yet again. This brings up the question, who will LeBron sign with this off-season. At this very moment teams are entering what I have called the LeBron Sweepstakes.
1.) Cleveland Cavaliers: I've only put them in here because i feel bad for them. They are about to get essentially broken up with their first love for the second time, and they know it. As a result they have made no attempt to get him back, instead began preparing for the future by trading Kyrie? Good luck Cleveland.
2.) LA Lakers: For some reason unbeknownst to me, the Lakers seem to be in every big name free agent's list of teams to play for but hilariously are crossed off said list early in the process. But this time the Lakers have gone with a new strategy, cut some what expensive promising young players and buy a build board. While I would love for LeBron to go to LA and become a Big Baller, it probably won't happen.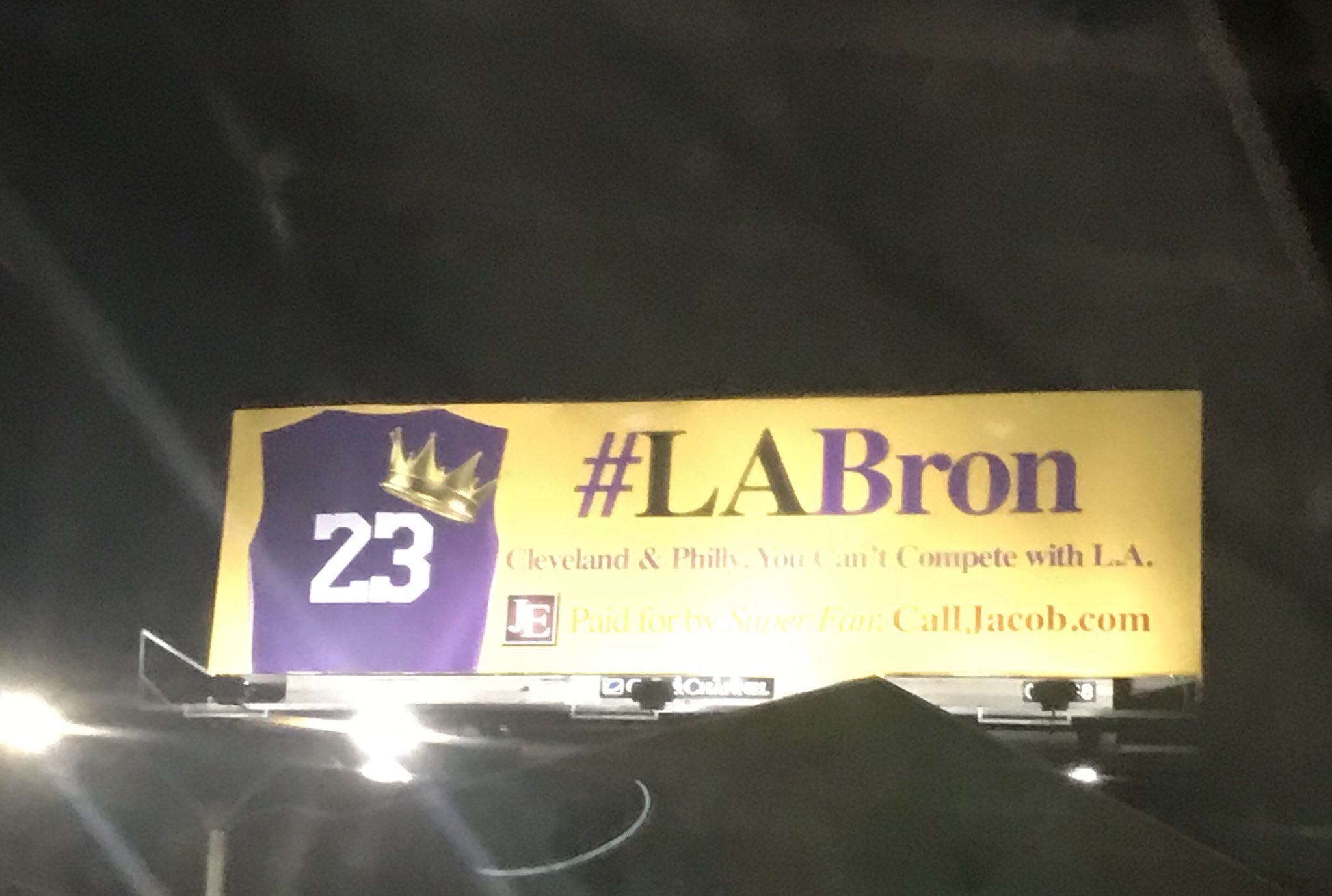 3.) Philadelphia Sixers: It pains me to but the Sixers on this listen being that I hate LeBron and he would basically destroy one of the things I truly love in this world. However, we are in the play for LeBron. We have a bunch of young talent and money, plus LeBron has already began to look at private schools in the area for Bron Jr. In addition we were the first to acquire a Bill Board for the man, and being how chapped Sixers fans are we placed the thing in Cleveland. While I love this move Philly, i sadly can't get behind being it could result in acquiring my mortal enemy.
There you have it, the first list of participates in the what will be known as the 2018 LeBron Sweepstakes, brought to you by CourtSide